Latest News
12.30.14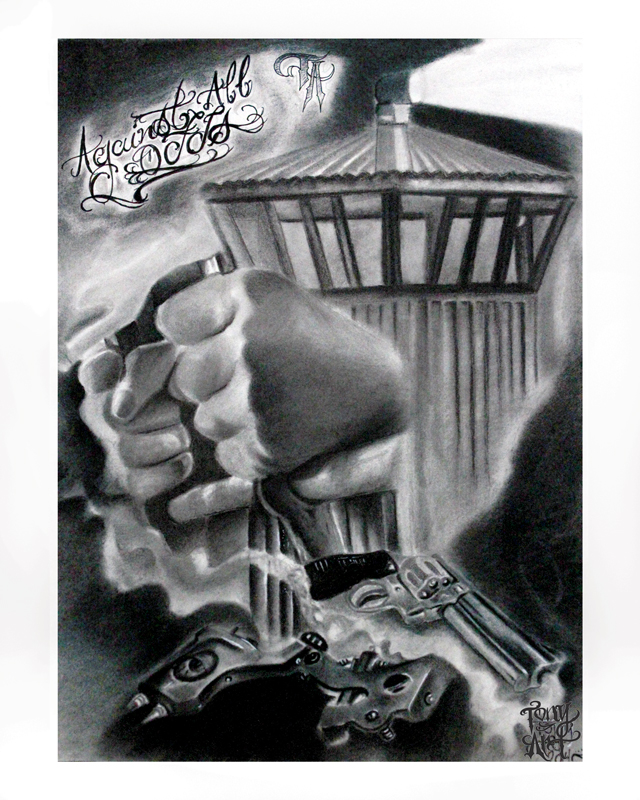 Against All Odds
Alot of us have huge obstacles that have or are limiting us from going after our goals and dreams in life.The story behind this drawing is the journey of my life to this point where I am now.
This inspiration drawing came from my life experiences and I want to share it to hopefully
inspire someone or help someone in this situation. Who may have been going through a hard time in life or dealing with a lot of odds against them. Maybe they are ex-convicts that have goals and dreams, but have thrown in the towel because of the overwhelming odds of staying free and going after their dreams and goals I hope I'm able to reach them threw this drawing.
Well, it all stared 9 years ago when my life completely changed .The year of 2005, I had got into some trouble in my youth.
I had almost lost my freedom permanently. During my incarceration which was a few years ago, I rediscovered my passion for drawing. I would draw all the time to take my mind off my situation,
which gave me a purpose to use my time wisely. If I would ever be let out to pursue a career as an artist; Drawing was away from me for a while, since my youth I focused my time and energy to boxing with plans to enter the pro ranks as soon as I turned 18 and going after a
goal. As a kid, to become a world champion.The dream evaporated in a heartbeat after my incarceration because my future was uncertain as well as my freedom. During that time the only thing I could do was draw ,read tattoo magazines ,read great books. I read a book
by Napoleon Hill,"Think and Grow Rich". It taught me "what the mind can conceive it can achieve" along with
a lot of other great things ,it talked a lot about people who overcame odds ,people who had
temporary failures to bounce back in life and be great ,but most importantly talked about
definitiveness of purpose backed with a plan and faith ,as the staring point to achieving your dreams and life goals. Fast forward now came the time to face a jury trial 12 people who would judge and decide my fate,
the outcome blessings from god I was acquitted of the major charges ,but still convicted
of a lesser charge sent to prison for a few years. My mindset I had from that moment was that I would
come home and do what I had set my mind to ,which was go after a career in tattooing as well
as selling my artwork and make a living through both.
I was released in feb 2009 ,with the odds stacked against me ,my parole officers were obstacle #1 they directly told me their job was to put me
away ,if i didn't find a job fast since the requirement of my parole guidelines were to be employed.
To them tattooing was not a verifiable employment, so I had to get a job at local warehouses
to make ends meet , I didn't land a job for almost a year from my parole date it was hard ,faced with the fact that my fiancee was pregnant with our first a baby girl.I had to my dream and goals to help
her out in taking care of our baby girl ,but the dream was not gonna go away,not this time, I threw my boxing future away I wasn't gonna do the same with this .SO I approached a few shops
was turned down ,since a lot weren't taking on apprentices anymore, it didn't discourage me
I researched and I took a blood borne pathogens course to tattoo safely and took action. I met a local artist who worked at a shop, picked his brains and grateful to him for sharing what he knew ,and I went at it. I wouldn't recommend going at it alone ,but where theres a will theres a way. I got tattooed by a local world renown artist and one thing he told me was ,knowledge is just knowledge if you don't take action ,he told me take action with anything you learn ,I have been doing that ever since. I was given an opportunity in 2013 to tattoo professionally in a shop grateful for that as well ,but it also taught to be cautious of jumping into situations because there is a lot of people trying to take advantage of inexperience as I learned in that situation when I started tattooing professionally in that shop. No grudges grateful to have been given the opportunity, thats the story behind against all odds the journey is not over its still being traveled, I am young in my career living out my dream and going for my goals, living life with purpose ,not being a victim of my circumstances ,and a testimony of where theres a will theres a way.All I can say is have faith have a purpose backed with a plan and take action you can do it ,I am doing it and will continue to do it knowing theres gonna be more obstacles to face,but I am ready ,god bless you all…..
Would love to hear from you, if you have feedback or any questions feel free to drop an email @ tonytattoosandart@yahoo.com Thank you .
07.02.14
We are working on some exciting new updates for template sites - stay tuned!
View more »